How to Style Colourful Jewelry
Ready to see the world in technicolor? From mesmerizing monochrome to kaleidoscopic rainbow hues, this is your definitive jewelry style guide to wearing bold, bright, and beautiful crystals that will not only transform your wardrobe, but your mood, too. Welcome to our color wonderland.
How to Style: Pink Jewellery
From delicate rose to striking fuchsia, mood-boosting pink jewellery pairs with the whole spectrum of positivity. Keep it monochrome with layering necklaces for a delectable, candy-inspired dream or clash with other glow-giving hues like yellow and orange. Anything goes at this pink party.
How to Style: Yellow Jewellery
Bring positive vibes to life with stacks of yellow jewellery. Try playing with proportions and a mix of crystal cuts to add intrigue, while embracing the absolute joy that comes with it. From showstopping chokers to luminous crystal rings, wear each piece as a personal ray of sunshine.
How to Style: Green Jewellery
Craft your personal style story with energizing emerald hues inspired by nature. Add edge with geometric crystal cuts and gold tone bangles for an ultra-chic look that exudes natural beauty. Green jewellery is a reflection of inner strength, wear it and feel the power within.
How to Style: Blue Jewellery
Dive deep and awaken new energy with oceanic shades that catch the light at all angles. From bright cobalt to calming turquoise, work blue jewellery by layering necklaces and stacking bracelets tone-on-tone, or mix and match asymmetrical earrings across the entire spectrum. When you've quenched your colour craving, you know you've arrived.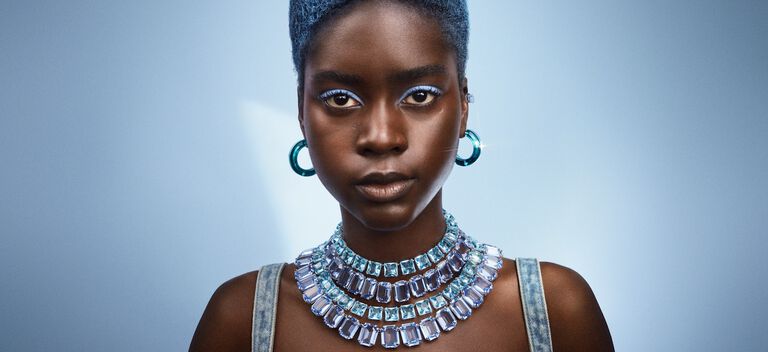 World of Swarovski
Illuminating the many facets of Swarovski from heritage to lifestyle and beyond.